We've all seen that graph. You know, the one that tells us about the roller coaster first year of teaching. I'll admit, I read (okay, skimmed) a couple of articles all about my imminent disillusionment phase before I started. It all sounded fine and dandy with the scientific and professional jargon, but let me break this thing down for us and tell you what it's really like.
May:
"WOO HOO! I graduated! I'm going to change the world" (after this summer of CONSTANT FUN of course).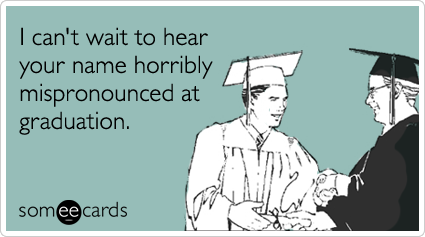 Am I the only one that this happened to? Don't worry, my friends took care of me and yelled out my name correctly. :)
Summer:
Pinterest Pinning Spree - "I'm going to have such a cute classroom. I have all of these great ideas for about 7 different grades, but I really, really want to be in ____ grade." Actively applying to every single job that is posted and taking every interview that is offered to me.
Later in the Summer: "
WOO HOO! I have a job! I've got a million things on my To Do list, but I am so excited to do great things. I'm going to change the world!"
No, no I AM going to change the world.
August-November:
"Oh crap, what did I get myself into?" This begins the constant state of anxiety. There is no time for ANYTHING! You wake up early, go to work, come home, do work, go to sleep (maybe) and repeat. Wait, did you remember to eat dinner? (Not always).
_____________________________________________________________________________________________
Thanksgiving Break:
THE REVIVAL - Something about that turkey and stuffing gives a burst of delightful rejuvenation.
Post Thanksgiving:
"Okay, I'm doing alright. I haven't lost or seriously injured any children yet (hopefully). I can make it through the next few weeks! It'll be great, I've got fantastic ideas for engaging my kids until break!"
Winter Break:
It's a miracle, we made it! 2 weeks of pure, relaxing bliss!
Week 1:
"I'm not even going to think about school. I'm just so happy to be home relaxing. I'm going to sit on my couch and eat and drink and watch Ellen all day."
Week 2:
Lesson plans, grades, Pinterest ideas. Schoooool is coming!
January and February:
Why do these two months exist? I'll tell you, to torture us! It becomes very questionable as to whether or not we'll make it through the year. Everyone is driving everyone crazy.
Only, this was a conversation that happened in my mind.
March:
SPRING BREAK! This has taken on a whole different meaning than what it meant last year in college. Catching up on sleep is WAY more important than going out.
If he says it's okay, then it's okay.
April - May:
OH MY GOSH Standardized Tests are coming. Okay, okay, we'll review. No big deal. Until you realize your students are remembering NOTHING about ANYTHING. PANIC PANIC PANIC!

June: *
Collective sigh* I made it. No students were seriously injured, lost, or harmed. We all made it through the year! If you're like me, you may even shed a few tears at the little stinkers leaving.